About Debra: Hubby's Lo$$
"I'm very desperate and attended a life mentor course on Universal Characteristic Method of Human Profiling (UCM). I thought the course could help me to understand myself and my relationship with my husband who does not care for me.  After the 2-days course, I don't think it helps. Then I come across your book which I immediately bought a copy. It helps my understanding a little," wrote Debra in her email to me.
"But I'm still confused.  My husband has recently resigned as a director from his not profitable business. He has been going to the casino since last year. He still goes to the casino even after I took out huge sum of money to settle his debts. His reason was to recoup some losses. Now he is jobless and he is trying to find other means to improve his financial state.  I feel angry some other days and confused to what should I do in this situation. I hope you can help me even I knew you must be a busy person."
I know Master Bernard personally. I believe he's done his own research to formulate his UCM method.  Our research findings and analysis are uniquely different when it comes to extended profiling as we're focusing on different aspects.  As most of you know, I'm combining my knowledge in Chinese Metaphysics and the Five Elements principles and applications to enrich my EON techniques. These helped me to identify extra clues that are otherwise not easily viewed through UCM or even the Power of Numbers (PON) method.
There might be contributing reasons Debra could not picked up the profiling knowledge during her UCM life mentorship lessons. Anyway, let's not worry too much why Debra felt negatively on UCM. Even though Debra has not attended my FEN (Five Elements Numerology) courses, she has bought my book "Elements of Numbers: Fast and Easy Character Profiling" and learned something useful. I'm glad and happy with her positive words on EON.
Let's analyse Debra's husband's EON chart. Let's call him David (not his real name). Once again, I'm using my Elements of Numbers (EON) method and the FEON+ software to analyse and will share my observations on the signs leading to his career and gambling addictions.
In basic EON principles, we can correlate money (finances), home (family), security (stability) to the number 6. You can find more traits associated to number 6 in my book as well. Get a copy of my book at major local bookstores in Singapore if you've not already done so. The book is available at Popular, Kinokuniya, and Times outlets, or at specialised metaphysics bookstore like Wan Li Book Co at Golden Mile Tower, Beach Road.
Money is a useful transaction tool we can use to enrich our lifestyle and increase our happiness. Money coming from direct sources (like working salary and retirement pensions) are often used to improve our social and family life, and our holistic health. Money coming from indirect sources, when not properly controlled, could create 'temporary riches' attitude leading to spendthrift behaviours. For most people, sudden huge windfall could lead to overzealousness and uncontrollable state of the mind. When the thought of making easy money comes to mind, it creates unnecessary overspending and possibly self-supremacy. Sadly for some of these people, they forgot that "money comes, money goes" any time going up and down like a roller-coaster.
That's what might happened to David, with the 3-6-9 [Fast-Money-Success] pattern in his PY2013 chart. The urge to make more money (3-3-6, [Fast-Fast-Money] in his Birth Chart) is getting into his head making him oblivious to his financial strains.
I noticed the triple 6s in his PY2013 chart which could suggest sudden financial movement and resource strained which might have influenced his career status. It could also imply influencing vibes at home – stability and security, finances, and happiness. In Five Elements principles, we associated the number 6 to Metal element – mental health, immune, breathlessness, respiratory, and brain. When a person could control his mental state, he could gain much wealth. But when a person is in an uncontrollable mental state, the mental madness, self-egoistic, emotional, and worrisome nature comes about strongly. The urge to make more money could have affected his mental state and work attitudes. Eventually his business partners might have questioned his skillset at work, and that could have contributed to his leaving the company. The compelling urge to visit the casino becomes a financial revenue for him to recoup his monetary losses.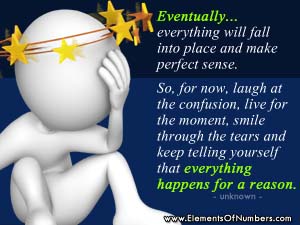 David has the 1-2-3 pattern in his Birth chart, suggesting he might have few worries about money in his younger years. He might have come from an above-average or wealthy family. However, there are tendency signs suggesting loneliness, mental stress, and not-so-strong family bonding in his formative years. There are tendency signs suggesting loneliness and lack of communicative expression when young. These could lead to habitual 'talking to himself' behaviours, and having regular mental distractions and unnecessary worries.
There is a possibility the perfectionist mindset (8-1-9) is driving him more towards talking about his plans to transform his visions to reality than carrying them out. The 'I want to do this, and I also want to do that' thinking might have influenced him somehow. In short, the wavy thoughts (up and down) are making him easily distracted. It could lead to insecurity and sensitiveness, often distrusting others and preferring to do things alone. And doing things alone is his preferred ways to settle his own problems. Debra has paid off his debts and it could have made him less aware of the seriousness on his gambling habits, further straining the financial burdens on his loved ones.
The 5-7-3 patterns in his PY2014 chart suggest financial loss, a result of carelessness and contractual disagreements. If David still don't "wake up" to reality, it could lead to more financial loss resulting in tension and frequent disputes with Debra. At extreme cases, his financial backers (the banks) could be knocking on the doors for repayment dues.  The triple 7s in his PY2014 chart could also suggest manipulations by others. He might have been led astray by others who took advantage of his unfortunate financial situations.
The 'Annual Code' tendencies suggest David to stay focus and the need to relentlessly work harder to resolve his problems on his own and relying less on others. Sure, there are obstacles abound. As long as David could face these as positive challenges, there is a possibility he could succeed somehow. David must be prepared for 'crazy busy' and stressing times ahead as the triple 8s is present in his PY2015 chart. It would benefit David to make a mindset shift on his career – focus on working on humanitarian and charity projects. If he could achieve that, the joy of success and personal contentment could happen around late 2015 and especially in 2016 with the multiple 9s in his PY2016 chart.
Meanwhile, Debra could provide more moral support and less material support to David. It's important David and Debra continues to confide their plans and worries, learn to trust, and give their spouse the breathing space needed. They could always consult family counsellors to understand each other's views and worries. These would help them forge a stronger vision and revitalise the hope for a better future happily together.
Regards, Ron WZ Sun