Better Tomorrow Starts Now
I was enjoying a relaxing weekend brunch yesterday when I noticed a man walking towards my direction. The words on his T-shirt attracted my attention – BETTER TOMORROW STARTS NOW. It's so inspiring, I thought, and a timely reminder for us too… that if we want happier, healthier, and prosperous times ahead, we got to start taking action now. Not later in the day or tomorrow, or another day. Procrastination is the "thief" of time. As Benjamin Franklin once said, "You may delay, but time will not." What this means is that we should start taking positive steps now before the "Double Effects" or negative vibes hit us hard.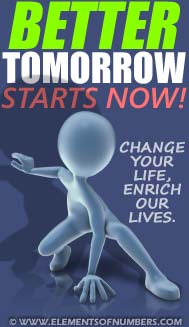 I believes in instinctive connectivity and correlative intent on the receiving signals attracting my attention. When you began profiling someone, you became more curious and observant. Your peripheral visions create 'out-of-the-box' 360-degree viewpoints. The need to understand the underlying factors influencing a person's character, traits, and their personalities is strong. You felt the need to build your profiling knowledge to interpret a person's EON chart and understand the meanings of the numbers. You know your viewpoints can get constrained, not by our profiling ability, but your lack of awareness on the underlying fundamentals.
Take the case of the 5-4-9 and 4-5-9 patterns. Someone tried searching for an answer to his or her question "Is 549 or 459 a womaniser number" on this site. Many people associated that to the "big gambler" and "small gambler" traits but they don't understand the reasons. If you want to profile a person, you must do your own research and build up your knowledge. When someone asked you why you said "big gambler" or "small gambler" you need to explain the factors contributing to your observations. The same advice you need to explain when someone asked if you can associate the pattern to a 'womaniser' trait. Worst still, other people might associated you as a 'charlatan' profilers when you cannot confidently and comfortably explain further. While you cannot force others to change their mindsets about you, you can start changing yours first. Now.
There are varying ways to interpret the 5-4-9 or 4-5-9 number patterns. The 5-4-9 [Obstacle-Plan-Success] and 4-5-9 [Plan-Obstacle-Success] patterns have two separate connotations. I'd two female students who attended my recent FEN class. They are siblings. I noticed they had similar patterns on their charts except for the numbers in the locations M-N-O-P-Q-R. The 5-4-9-4-5-9 pattern is present on the eldest sister's birth chart while the 4-5-9-5-4-9 pattern is present on the youngest sister's birth chart. They have different personalities. The older sister is more vocal, direct, and optimistic (inclined to the "big gambler" type) while the younger sister is more laid-back and pessimistic (inclined to the "small gambler" type).
I've taught FEN (Five Elements Numerology) students to learn the visualisation technique for better human behavioural profiling. I'd explained the difference on the 5-4-9 and 4-5-9 patterns and the why's and how's it could affect a person's behaviour, habit, and mindset.
Let's look at the 5-4-9 [Obstacle-Plan-Success] pattern first. Before the person starts to plan for his or her success, there is already a mental stumbling block on their mind. The "fight-or-flight" response influenced the follow-up action on their "I'm worried my plan might fail" or "I'm hopeful my plan will succeed" thoughts. When the person dares to take the risk, the number 5 could manifest the "challenging or opportunity" fighting-spirit vibes. We interprets the 5-4-9 as [Fight-Plan-Success]. But when the person dare not take the risk, the number 5 then manifest the "stubborn, perverse or obstinate" flight-mode vibes. We interprets the 5-4-9 as [Flight-Plan-Success]. When the person instil the [Fight-Plan-Success] mindset, they are attracting the optimistic "run ahead" influencing vibes, just like the "big gambler" type. When the person adopts the [Flight-Plan-Success] attitude, they can be affected by the pessimistic "take two steps forward and one backward" influencing vibes, just like the "small gambler" type.
So does that mean a person with the 5-4-9 traits can inhibit the "big gambler" and "small gambler" traits?
Why not? When someone told you the 5-4-9 is a "big gambler" and the 4-5-9 is a "small gambler" or vice-versa, you cannot simply assumed that is the fact, and you should adopt that stereotype mindset. As you profile more people, your curiosity sits in as you noticed the duality effects of each number and its cyclical influencing vibes on the resulting number patterns.
You'll learn more about the underlying factors on various number patterns in my FEN classes. You can identify, interpret, and notice the varying influencing vibes on each number, and its combinations forming the number patterns. You will also understand the hidden influences on the 5-4-9 and 4-5-9 patterns, including its probable associations to a 'womaniser' trait. We cannot always assumed a male person with the 5-4-9 or 4-5-9 patterns in their chart a probable "womaniser".
You can plot Errol Flynn's EON chart (DOB: 20/6/1909) and noticed there is no similar pattern in his birth chart. And for the curious ones, Ted Turner has the 5-4-9 and 4-5-9 patterns on his EON chart. According to The Telegraph online site, Ted Turner "spends one week each month with a different girlfriend."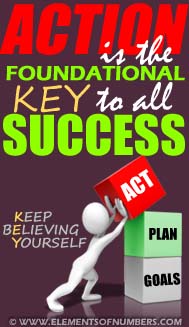 The phrase "Better tomorrow starts now" is a good and positive affirmation that if you want to profile someone better, you must take action to expand your knowledge – the fast and easy visual way. I'm conducting my FEN/NSQ preview session this coming Wednesday (17/6/2015). You can have a better tomorrow by taking action – come for my preview session and see personally what you've been missing all these times.
I know you have learned something useful from this article. You can learn more extended EON techniques when you are serious about improving your tomorrow's lifestyle. You get the benefits of learning direct from me – an EON researcher, author, and trainer – and my teachings with the visualisation method. You have read the many articles on this site and you'd have noticed I do share freely bits of techniques, explanations, and insights. I'm not sure if other trainers do passionately post articles regularly for the past few years and share freely their observations with you. You might have noticed the compelling visual slides attached in many of my articles – these are actual slides (though scaled down to smaller size as sampler) that I'm using in my FEN teachings. When I profile a case study subject or conduct FEN classes, I know I'll be using both sides of my brain for logical and creative thinking. You get to learn from me the underlying factors from a logical and analytical viewpoint, plus the creative visualisation technique – the capacity to identify and understand a person's characters and traits from the immersive training slides.
As Mark Twain said, "Never put off till tomorrow what may be done day after tomorrow just as well." I'm aware many of you have had negative experiences with other trainers, and worried my FEN sessions would be similar. Put the feelings aside and give yourself the opportunity to unlearn what you've learned. Reframing your thinking is one immediate action to charge forward for a better tomorrow. Register for the preview session now and see how you can change your life and profiling skills for better times ahead.
See you on Wednesday (17/6).
Regards, Ron WZ Sun