The Search for "Beware of PON"

I'm not sure what the person is expecting when he or she searched for "beware of PON" on this site. Is he or she referring to an earlier article "Beware of PON's 8-3 Murderer number" or something else? Nonetheless, I understand how the person might have felt, if the "beware of PON" is about searching for "warning signs" on the method or the trainer.
Today's article is briefly on my own reflections, but mainly on what you could look out for when determining the ideal numerology course to attend.
I've had bad experience with a popular Malaysia PON trainer. I developed a customised PON software for Oliver in 2007. It's now October 2020 –  thirteen years later – I've not got any payment from Oliver. The many visits I've made before 2012, whenever he's in Singapore to conduct PON courses, and reminding his wife as well; and subsequent patient reminders to his various PON organisers to get him to contact me, in past few years, including the most recent one in August this year – all these were time-wasting efforts. Perhaps, there could be reasons for the oversight. Please help to tell Oliver about his "late payment" if you meet him the next time around. I'm always happy if Oliver is ready now for an amicable closure – just email me at SunTzu2796@gmail.com Oh, no phone call please, as I've avoided picking up calls from unknown local and overseas mobile numbers not already saved in my contact list, due to frequent spam/scam and marketing cold calls. 
For a moment, I felt the disappointment, mistrust, and sympathies, as it reminded me of the impending karmic consequences that could befall on those unethical people who embraced the "force of greed" where money rules and controlled their minds.
I've always believed in divine connection and karmic consequences. I told my FEN (Five Elements Numerology) students the reason why they attend my FEN class – in many ways, it's about the destined, the divine connection. The fact that you chanced upon this site and reading my articles, is again, linked to some spiritual energies, except that you're not yet ready to be connected with me personally. Last year, I met a lady numerologist who told me she waited "10 years for me" as she hoped I could develop software tools for her unique numerology method. Again, it's destined for her not to meet me in 2009, but ten years later, in 2019. She claimed to be personally involved in the origin of Visiber; recounted the history of Visiber and PON, and why she left; and how the LifeCode was created more for commercialised intent. Whether her claims hold the entire truth or not, is to me, a one-sided story.
My brief exposures with Oliver, was a destined cross paths that linked me up with different types of people, at various checkpoints of my life-path journey. It allows me to understand that failure is often a pathway to success. From positive aspects, it created another eventful experience where it's like the "you won't know until you've tried it" phrase. The unfortunate PON experiences, subsequently, spurred me further to focus on more meaningful pursuits. And I'm happy with the result – the release of my Elements of Numbers (EON) method; publishing my EON book; spending time passionately to post articles educating on proper, ethical profiling ways; and conducting value-added courses.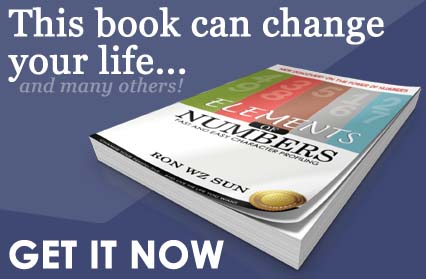 Many basic courses conducted by external trainers in other profiling methods, consisted of rudimentary consolidated theories. Even so, the course fees are not cheap. There are affordable alternatives if you're starting out to learn, and unwilling to invest so much – you can learn the fundamental principle from my EON book "Elements of Numbers: Fast and Easy Character Profiling." My book is available for direct online purchase at S$36 (for users with Singapore address, with no delivery charges). Click this link out to buy the book, for local and overseas users. It's much affordable than investing a couple of hundreds of dollars to a thousand, just to learn from other trainers, and then regretted later that it's exactly "not worth it."
Once you've got the basics of numerology, knew how to plot the basic charts, and perform simple profiling analysis on others, it's time for you to take a step forward to higher learning. You've to determine whether it's worth your time, effort, and money, to invest in attending a basic-to-advanced numerology course.
Here's a simple 10-point guideline that you might find handy, before you decide on the ideal course to attend and who (trainer/mentor) you'd like to learn from:
Knowledge of the trainer on the profiling method. A trainer who conducted research, and published a book, is always preferable than a trainer who simply customised training materials. Why is this so important? Simple, a trainer who's willing to put their time, effort, and money to publish a book, means he or she must have acquired better understanding on the profiling method they applied.
Gather feedback on the course. Check the Internet, ask friends around. Do some homework to gauge the positiveness of those who'd attended the class. Remember, when there are too many students in a classroom, less quality time is spent on each student.
Training styles. This is subjective. Thus, the best approach is to attend preview sessions, whenever available. If none, check their book, if there's one, to know their sharing of information and delivery style.
Continuing learning through articles. Find out if the trainer posted articles on a regular basis, to share relevant profiling techniques and case studies. Is the article posted as private (only exclusive to members only) or freely available to the public? If it's private, there's little way to know, understand, and explore how much you could learn. If it's freely available, you can read up and learn as well. Next, judge how much improvement you've made just by reading the articles.
Availability of the course outline or syllabus. This is important so that you can justify and equate the quantity of information and techniques learned, with the course fees. Always remember to put aside the stereotype assumptions on course fees. Expensive course fees do not necessarily mean high-quality lessons. Likewise, cheaper course fees do not imply lower-quality lessons.
Trainer's training background. Is the trainer trained to conduct adult-learning classes, adopting learning best-practices, so that you, as their students, would get the best insightful learning experience possible? Normally, a certified trainer is trained in various L&D (learning and development) techniques, adjusting lessons based on demographic profile, setting "parking" lots, and involving participation and activities for learning retention, gathering feedback, and completing the course objectives. That's one reason why knowing the course syllabus earlier, is important.
After-class Support. What happened after you've completed the course? Are you able to consult the trainer directly, or are there discussion groups, like WhatsApp chats, set up by the trainer to support their students after course completed? Just be cautious when there's no direct support after class ended – you're not attending academic lessons!
Software tools. Does the trainer provide original software tools (for free, or at a discounted price), and not ripped-off unauthorised copies of tools developed by someone else? If there is no software tool provided by the trainer, are there readily available tools that allow plotting of charts based on the numerology method conducted by the trainer? Even if the software tool is in Microsoft Excel format, that's OK. Next, check if the software provides extra charts beyond the birth chart, like periodic charts that you can use to check particular days?

Test-drive the trainer.

Pass one birth date and request the trainer for simple advice on specific question (not "everything" as their time is precious too). Go over their responses. Remember, there's no 100% accuracy as people's behaviours and attitudes do change; not their birth charts. If the trainer could spend the time to analyse – and possibly, post your question as case study articles on their website for everyone to study – the trainer is confident and understands his profiling method well; and is sincere and committed to share his knowledge with potential students.
Course fees. The reason why I put course fees as the last point is simple – if all above points are met, the course fees can be expensive. Nevertheless, lower-priced course fees don't mean lower-quality learning, or it's a scam; and higher-priced course fees doesn't mean higher-quality learning. If the trainer has their own website for many years, and email address where you can contact them directly, and not through the organiser, it's likely you'd acquire much profiling insights in their classes. Finally, it depends on how deep your pocket is, and how much money you could afford to lose, should you made the wrong judgement.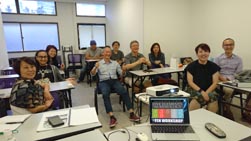 The above 10-point guidelines is a good reference that you can use, to avoid any subsequent regrets you might hold, whether it's about your time, money, knowledge, or your wellness. It's up to you to make the choice. Remember, no profiling system is complete, and no method or techniques can cover every aspect of identifying human behaviours. The eventual outcome of your learning experience – success or failures – depends to a great extent, on your perspectives, judgement, and decisions.
Strive to discover and understand other complementary methods as well, to "fill the gaps" in your profiling analysis. When you combine all these methods, and understand which technique is relevant to identify clues on particular issue, you'll progress well… to know yourself and others better.
Regards, Ron WZ Sun