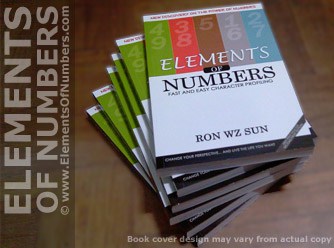 You can purchase the book "Elements of Numbers: Fast and Easy Character Profiling" directly from me. Check below table for more information on the country zone (delivery address):
DIRECT PURCHASE (ONLINE) FROM AUTHOR
Book Title: ELEMENTS OF NUMBERS: FAST AND EASY CHARACTER PROFILING

Book Author: RON WZ SUN

ISBN: 978-981-08-6966-3

Prices quoted are inclusive of postage and registered shipping charges (via Singapore Post Office registered article/parcel.) Prices quoted does not include additional tax (like VAT) by your local agencies.

Delivery between 1-3 weeks upon dispatch confirmation, depending on country/location, and subjected to your local custom clearance process. Tracking information is provided for you to check the delivery status.

PayPal payment will be made to "RONMARIE' account.

Please ensure your shipping address is correct before purchasing

Do contact us if you're unsure of the ZONE # your country falls in.

Zone / Country (Area)
Click on PayPal button (in your country Zone) to purchase

ZONE 1

SINGAPORE, BRUNEI, MALAYSIA

Despatch to address in Singapore, Malaysia, and Brunei

1 Copy – Singapore Dollar SGD$36

3 Copies – Singapore Dollar SGD$90

ZONE 2

ASIA & PACIFIC

Despatch to countries in ASIA (like Hong Kong, Indonesia, India, Macau, Vietnam, Philippines, and Thailand) and the Pacific (except Australia, Japan, and New Zealand)

1 Copy – Singapore Dollar SGD$42

ZONE 3

REST OF THE WORLD

Dispatch to countries in the rest of the world, including AUSTRALIA, JAPAN, NEW ZEALAND, AFRICA, AMERICA, EUROPE, and MIDDLE EAST.

1 Copy – US Dollar US$36

Email us at SunTzu2796@gmail.com if you're unsure if your country falls within Zone 2 or Zone 3.
For book enquiries and overseas distribution (anywhere in the world), please contact me directly via email: SunTzu2796@gmail.com
Regards, Ron WZ Sun