About Melissa – Part I
I'm glad to have Melissa's support for registering the FEON+ software even though she's new to the Elements of Numbers (EON) method.  I'd like to thank the others who have registered FEON+ as well and I hope you'll enjoy many hours of profiling excitement using the new software as much as I do. Send me your questions and I'll see if I can post my answers as case study articles here wherever possible. If you've not already bought the software license for FEON+, do so to take advantage of the AUGUST MONTH SPECIALS.
Melissa posted some questions in her recent emails to me. I thought I might as well use her case to share my observations, and as well as an example on using FEON+ to profile a person.
This is going to be a multipart article series, similar to how I posted "The Mann" articles. In this Part I, I'll focus on the tendency signs suggesting Melissa's personalities, traits, and probable symptoms. By the way, the tendency signs that I'd be sharing here does not imply Melissa would inhibit all traits and characteristics mentioned. After all, the active traits depend on the person's current state of their minds, behaviours, habits, and actions. And these are cumulated from their experiences, social lifestyles, and family upbringing.
Let's start the analysis…
Melissa has the Birth Root number 8 (Fire element). I've described the basic traits of number 8 on Page 60 of my book "Elements of Numbers: Fast and Easy Character Profiling". Notable traits include conservative, lively and full of energy, passionate, enduring, responsible, relentless, caring, helpful, rightfulness, perseverance, and others. I have also mentioned that on the outset they appear tough but inwardly, they are soft and easily stressed. Check out my book if you're new to the Elements of Numbers (EON) method. You can get my book at Kinokuniya, Popular, and Times bookstores if you're staying in Singapore.
My book covers the basic traits, to get you started to learn the EON method through classroom-like approach. As your EON knowledge improves, you can also identify signs suggesting crazy busy, temperamental (poor self-control, could lead to bipolar disorder at extreme cases), easily exhausted, distracted, and possessive. I've included the steps to interpret the personality of a person on Page 63 of my book. For example, you can start identifying the numbers in the various locations in the charts like O, I-J, K-L, M-N, S-T, V-W, P-Q, L-N, N, N-O, and O-P. Then correlate the numbers to the traits described on Page 23 to 33.
Since I've covered the basic personality interpretations in my book, you can always check them out. Now, I'll be sharing my observations based on the extended EON methods.
There are tendency signs suggesting regular swaying mindsets, flickering thoughts and unnecessary worries. More often than not, Melissa has to lower her expectations and high hopes, and not to try taking short cuts to success. It'd make her more stressful, hard-headed, and temperamental (numbers 3 and 8). She should also learn to focus on what she could do, and not worry unnecessary about what she cannnot do. The signs in both her conscious and subconscious charts show a stressful behaviour, and if she does not unlock the mental blockage in her mind, it could trigger into fiery emotions that may hurt her health. At extreme cases, signs like mood swings, abrupt tempers and bipolar disorder may shows up, and these could affect her relationships with others, something she may not be consciously aware of.
Inwardly, she could be often thinking about what she plans to do to achieve financial stability and to provide great home for her family. Unless she start focusing on what she want to do and not what she plan to do, she may experience stumbling blocks because of the lack of active actions to actualise her goals. Besides the flickering thoughts, the reliance on others (number 7) is strong. Learn to be independent and stay focus is a positive step closer to better financial management and mental stability.
On health matters, she needs to exercise moderation when it comes to her diet. There are signs of 'sweet-tooth' urge that may affect her blood sugar level especially if she takes too much sugary stuff like cakes, desserts, alcohol, carbohydrates, and others. At extreme cases, these could create liver issues and diabetic condition. She must also take care of her immune system (respiratory) and mental state. If Melissa currently experience regular breathlessness and easy hyperventilation, that's a sign she has to moderate her pace and not to chase her dreams too furious and too fast. Once in a while, she should stop to smell the roses… Getting the eventual rewards at the expense of her health is just not worth the effort and time. And her health.
What I have described so far are on the tendency signs present in the elements and numbers in her charts. FEN students, especially those who'd completed the Advanced Level, learned the visualisation techniques to identify these extended methods.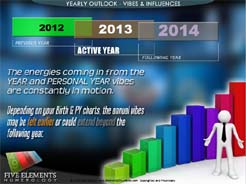 Melissa is facing the Personal Year 4 which implies setting her foundation and fundamentals right, and the need to carry out her plans and build up a solid foundation for her future. She must not be distracted and succumb to the "quick success" encouragements from her friends. It would benefit her to act on her plan instead of just thinking about it. Yes, she must control her emotions too. The number 2-1-3 in her Py2014 imply possible stumbling block in her pursuits and plans. As long as Melissa could focus and deliver her plans, and treat all obstacles and stumbling blocks as opportunities and challenges, she should be able to achieve her targets. Keyword for 2014 – Work on the plans and carry them out relentlessly. The annual vibes present suggest not to rely on others too much to fulfill her goals. Focusing and doing it alone would help reduce disruptions to her plans. Oh, the positive signs are obvious in her PY2015 chart and it's up to her to take action to manifest the positive vibes.
On career matters, there are signs suggesting conflicting support from her supervisors debating over her skillsets and career path. Identifying the Career Element is an extended EON method covered in my FEN Advanced classes. It's different from the suitable business or career types described in my book.
That's all for this Part I article. I'll focus on Melissa's friend in Part II, followed by sharing my observations on their relationship compatibility and summarising Melissa's questions in Part III.
Until then, have a great time ahead learning the EON method.
Still contemplating on the FEON+ software for your profiling analysis? The choice is yours. Act now before the introductory offer (S$49 instead of S$69) ends. That's about 29% discount and a S$20 saving!
Regards, Ron WZ Sun