The Search for "Childbirth & Baby"
Recent searches on "Baby, Childbirth, Baby Shop" have been done on this site. My guess is the person(s) who posted the search were anxious to know if it is possible to apply Elements of Numbers (EON) to identify signs related to the baby or childbirth. But I'm not sure what the "baby shop" is; if it's about knowing the gender, I don't know, and I don't intend to spend any time looking at it. I would rather use productive time to uncover more clues, that most of you can apply to accelerate your profiling knowledge and changing behavioural mindset instead.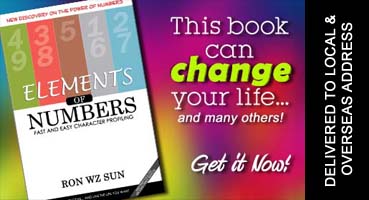 On Page 218 of my EON book, "Elements of Numbers: Fast and Easy Character Profiling," I described the number 1 being the first number in the series (1-9), which is the creation number, and that's where we can associate the number 1 with children or baby. I also highlighted the possibility of checking on how many kids a person might have. However, over time, I noticed it's becoming inconclusive due to influencing factors (stated below) beyond the tendency signs. I encourage you to re-read my EON book if you have one. Click here to purchase the EON book if you have not previously purchased one, or as a thoughtful gift to someone.
Some of the external factors that influence childbirth include:
No Family Plan. Married couple not interested in starting a family. While there could be baby signs on a woman's chart, the act of not starting a family made the observation, redundant and incorrect.

Health issues

. Either the husband or wife, might have a problem affecting the stage of conception, likely caused by infertility on one side.
Medical Intervention. In vitro fertilisation (IVF) is now common to help women get pregnant, when a human egg is fertilised with semen in the lab. It is also used for the treatment of infertility and genetic problems. This could change the 'genetic code' and the tendency signs in the charts.
The environment. The husband and wife are healthy and normal, but the pressure and stress have become an impediment to their plan to have a baby.
Perceived Mindset. Yes, that happened with one of my former colleagues. While they were dating, the girlfriend at the time wanted to have kids. But after the wedding, she changed her mind because she was afraid of the pain and suffering of giving birth. Sadly, a perceived mindset that changed her thoughts. After seven years of marriage, the two decided to divorce (still without children) because confidence, communication and love are no longer there.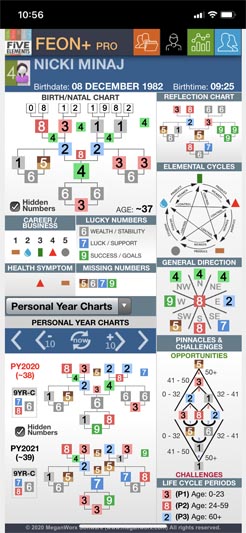 When checking on baby signs, you don't check the birth chart. It's too naive and wildly premature (oops, excuse the pun); check the periodical charts instead. That's where the baby signs are.
In basic EON theory, when you look at the number 1 in a woman's Personal Year (PY) chart, it shows the baby signs. That's also described on Page 218 of my EON book. For example, look at Nicki Minaj's PY2020 Chart. The presence of number 1 is there. According to this ELLE article, titled, "Nicki Minaj Shares First Photo Of Her Baby Boy,"  Nicki "announced the birth of her first baby on Instagram on October 15." Nicki's childbirth was smooth and successful, as I also noticed the "negative patterns" in her PY2020 chart, were weak.
Let's look at one more chart – this time, a celebrity from South Korea. According to this Soompi article, titled, "Yulhee And FTISLAND's Minhwan Welcome Birth Of Twins," Yulhee and her husband Minhwan are "now parents of three" on 11 Feb 2010. Again, the number 1 is present in her PY2020 chart.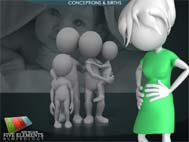 From an extended EON method, there are more 'baby signs' than just its presence of number 1 in the PY charts. I gave more details to the FEN (Five Elements Numerology) students in class, on identifying other baby signs, and what might happen when certain patterns (positive and/or negative) are in close proximity – this could lead to natural childbirth or complications. Having a caesarean birth is a separate matter, because it's more a decision made by the wife and her husband. Even the seasonal influence plays a role, as energies could "change course" indirectly, especially when conception starts at a certain trimester. Hence, it doesn't always mean that whenever you noticed the number 1 present in your PY chart, you're ready to act. There are other influencing patterns that could affect the outcome.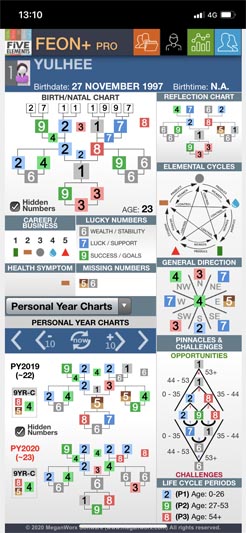 Nowadays, relying on the Personal Year chart is inconclusive, probably because of the external factors I mentioned earlier, and the expectations of society. In general, it is always helpful, as a guideline, to verify the PY chart for baby signs. I explained in my FEN classes how we should avoid or proceed when aditional external influencing patterns are present. Once you have been able to identify the positive energies, it is time to act.
Finally, verifying the baby's signs and identifying positive vibrations in the PY chart, needs extended EON knowledge and practices. As mentioned earlier, it's always a guideline that you don't need to follow, when you're unsure. Well, FEN students can always chatted with me in the FEN COMMUNITY group to discuss further. Anyway, If you are craving to have a baby, don't think too unnecessary and just let the flow of X-Y sperm interactions begin.
Having a "designer baby" (click here for past articles) doesn't guarantee your child would grow up to be a remarkable, brilliant, and successful person. It is more about the parenting styles, values and behaviours inculcated (preaching by example, practicing what you preached), and guiding them to be who they are, not who you want them to be.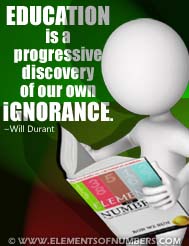 School results, while still essential, are no longer a specific requirement for working adults; having experience and instilling a positive growth mindset is. Each child has unique abilities – some are book-smart for exams and intellectually, and some are street-smart and resourceful. Every child has different ways of learning or developing their abilities. Encourage and handhold them, whenever needed, to do their best and not discipline them in your worst emotional or anger state. Instead, provide exposures and guide them to build their own experience in order to understand, be prepared and act responsibly to chart their own way of life.
Regards, Ron WZ Sun