Goodbye and nanu-nanu to Robin Williams
He was a reason that got me excited and glued to the TV set in early 80s watching his comical greatness in the "Mork & Mindy" TV series. I still remembered his famous "nanu-nanu" phrase. According to The Hollywood Reporter online article, Robin Williams was found dead on Monday (11/8/2014), suicide suspected. He was 63.
I was curious to find out more after reading many media reporting him of suspected suicide. Let me share my observations based on the Elements of Numbers (EON) method.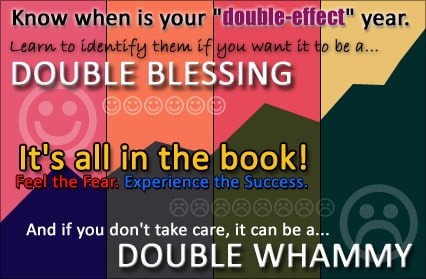 Williams is facing a "Double Effect Year" this year in 2014. This means the negative and positive vibes are manifested doubly. When a person is facing a "Double Effect Year," they could either be enjoying a "Double Blessing" or "Double Whammy" year in general. More often than not, when you have a "Double Effect Year," you must always take care of your health while you chase your dreams. Sadly, the "Double Whammy" vibes are too strong for Williams. The mental madness and unnecessary worries (strong Metal element) are getting into him, becoming more obsessed, perhaps with OCD-tendencies. Check my book "Elements of Numbers: Fast and Easy Character Profiling" for more details on the "Double Effect Year" influences.
From the many case studies I've done, I noticed there are usually multiple 4s (and to lesser extent, including number 9) present in a person's chart. The number 4 (usually the case) could be present in their Birth chart or Personal Year chart. It could occasionally be identified only after I've applied the multilayer analysis technique. Students who attended my FEN ADVANCED LEVEL classes would be able to identify most, if not all the signs I've mentioned, including applying the multilayer analysis. Of course we have to be sensible here – many people do committed suicide with no strong number 4 present in their charts during that year.
Putting suicidal as one contributing cause aside, Williams could also possibly have died because of heavy drug or medicinal dosage. There are tendency signs (strong Metal) suggesting his death could also be related to immune, respiratory (breathing difficulties), or having stroke-like symptoms. As the media had reported, he was suspected to have committed suicide by asphyxiation.
Some mentally-worried and obsessed people could be tempted to take extra dosage of drugs or medicine to relieve their stressing and hysterical moments. They're not in control of their mental state. They may not intent to die or commit suicide. Perhaps, all they want is to feel free for the moment, away from the mental worries. Unfortunately for some, the momentary sense of freedom could lead to deadly permanent moments for them.
In the Five Elements, strong Metal element can repel against Fire. The urge to 'warm' the coolness and dryness in their body is strong. They could resort to alcoholic consumption, binge drinking, taking drugs, or smoking addiction.
There are also signs suggesting possible non-suicidal influences. Could Williams have committed suicide or accidental death because of overdose, respiratory-related conditions, or a combination of all these? Anyway, let the medical experts examine and release their findings.
Meanwhile, May his soul rest in peace.
Regards, Ron WZ Sun