On Cranberries singer Dolores O' Riordan
By now, you'd heard about the death of the Cranberries singer Dolores O' Riordan, who died on Monday 15 Jan 2018. She was 46. According to The Guardian article, the "coroner waiting on tests for cause of death." Dolores was "found unresponsive in a hotel room in Park Lane, London."
On Wednesday 17 Jan 2018, I attached the below screenshot of Dolores' Birth chart and Selected Day chart to members of the FEN COMMUNITY (FC) who have completed the 1st and 2nd FEN WORKSHOP classes. The intent – to encourage continuing, active after-class participation so that they can bring out the best of their observatory and profiling skills. I told them, "to teach is to learn twice." That means when they dare to share their views, it'd be easier for them to learn as well.
Here's snippets of some comments shared by FEN students in the FEN COMMUNITY WhatsApp chat group:
Heavenly Send-Off?
There are a lot of metal elements in her DOB chart. Probable to have mental stress, in addition to the combination with fire and wood elements as well. Can be emotionally unstable due to her mental state. The same signs are present in her personal year and combined day chart.
Double effect. And super stressed for her too.
Based on the day chart, something might have happened with regards to work, or she wanted something to be perfect. The outcome may have caused her to be emotional, and it indirectly caused her death.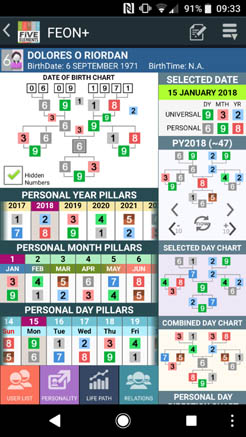 I'm glad the FEN (Five Elements Numerology) students have made good progress, and their visualisations and observations are on the right directions. I also told them there are no correct or wrong opinions or observations as it all depends on which focus aspect they are targeted at, while checking on Dolores' chart. And of course, as all FC members have the FEON+ software installed on their Android smartphones, they'd be able to utilise the software more effectively since I explained the usage and features of the software in class. This includes explaining the purpose and use of the Pinnacles and Challenges, and Life Path Periods.
While we await for the cause of death results, there are tendency signs displayed when we analyse from the Elements of  Numbers (EON) perspectives.
I told the FC members the probable contributing factor – strong METAL elements present in her birth chart, and as well as the support of Metal elements in some other equally important charts. These could lead to exhaustion, fatigue, breathlessness, sleep apnea, hallucinations, mental-illness, eating disorder (anorexia) and over-dose (of medication or drug). It could also suggest some form of mental related illness, respiratory issues, lungs, or stroke. Perhaps, she could also be paranoid about trivial issues, and these could create unwanted fears, anxiety, and unfounded worries. Incidentally, strong Metal element can affect the Fire element, which means her blood pressure and heart might be affected too, on the day she died.
Out of curiosity, I decided to plot the NSQ charts for Dolores. Both her NSQ Birth chart and NSQ Day chart shows similar strong presence of the Metal elements too.
One FEN student commented, "Her DOB chart shows she is a materialistic person, chasing for power status, high success, and wealth aspiration (wealth/money).  However, her skill set, confidence, and support were lacking in her destiny charts. She ended up feeling mentally stressed and emotional."
Besides checking on Dolores' PY2018 chart, it is equally important to check her PY2017 chart as well due to the transitioning energies between 2017 and 2018. Using the recently-formulated UNZIP Code method, the signs suggesting strong Metal elements in her PY2017 chart are clear, present, and perhaps, detrimental. There is the urge to create the perfect vision with her distinctive singing – the perfectionist traits.
As another FEN student puts it, using the Five Elements visualisation technique that I shared in class, "Her PY2018 chart has a strong presence of metal, creating worrying, mental-related issues due to the result – Fire. She could be a crazy, power chaser for something, like life status, style, quality, etc., and end up creating more worry mental stress for herself to deliver the result. She might face some challenges to gain support from others. She needs to learn to be more adaptive, and flexible. Communicate and interact with people more could help release her excessive metal energy from controlling by her fire power."
Besides sharing the various extended techniques with FEN students, including the periodic codes (Annual, Birth, Daily) and Life Forces, I've explained the different solutions the students can provide should they come across situations that warrant different sets of remedial actions that are more practical and logical, and easily attainable by the subject person. I have opened the windows to profiling from wider horizon. Given time and regular practises, from me and fellow FC members, I believe the students' knowledge and profiling would excel beyond identifying number patterns, and not relying on LifeCode solutions.
The 3rd FEN WORKSHOP has not been scheduled yet, and the earliest tentative date would be in March or later. If you've completed the UCMHP, PON, LifeQuest, or even Visiber and/or other PON courses, you'll find it beneficial to learn the extended EON techniques shared and explained at the FEN WORKSHOP classes, just like the FEN students who've benefitted. Check the RonWZSun.com site for details on the FEN WORKSHOP course outlines or click this link to check out and email me (or WhatsApp me) to pre-register.
Until then, may Dolores O' Riordan's soul rests in peace.
Regards, Ron WZ Sun