Muddy Waters on 7-7-5
I was attending an investment class during the past two weeks, a tiring but rewarding experience for me. I learned much about optimism levels and compound annual growth rate (CAGR). I learned the techniques to identify trends and patterns, entries and exits, and increasing financial returns. I realised there are much similarities in (TA, FA, PA) principles to the profiling techniques I've used in the Elements of Numbers (EON) method.
I met Mabel at the investment class. She bought my book "Elements of Numbers: Fast and Easy Character Profiling" some time back. She was excited when she discovered my identity. Among the few questions she asked was the meaning of 7–7–5 in the M-N-O locations. It was around 11pm and we're both feeling tired after class, so I briefly told her how to analyse the 7-7-5 pattern "as is", putting all other numbers in the person's EON chart side.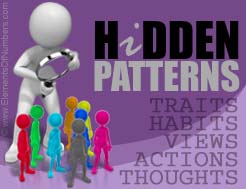 Let's analyse the 7-7-5 [Supporter-Supporter-Obstacle] pattern. The traits you're about to read applies to both gender. Unless otherwise stated, let's assume the 7-7-5 pattern belongs to a female person for easier gender association. She has great charismatic appeal and good Social Intelligent Quotient (SQ). On first impression, she might have many friends and supporters and enjoyed her social lifestyle. But deep inside, she might feel lonely even though she's not alone. She might felt insecure, fearful, and have distorted feelings on other's well-intentions. She's worried others might create obstacles and manipulated her. There are tendency signs of over-speculation and 'unclear' feelings and it could have manipulated her thoughts instead. Her thinking is like the torrential rainwater pouring creating muddy waters on the earthy ground.
As the 7-7-5 is on M-N-O locations, it could imply confusion between feelings, the left 7 and right 7, the good and bad, the unconventional thoughts and straight thinking, and the duality or split personality traits. No one knows what is on her mind, how she feels, and what actions she would take. At extreme cases, she might inhibit sexual disorientation or confused over her gender identity.  
We could also associate the 7-7-5 pattern as [Sensual-Sensuous-Self Exploration]. This could imply a person with flirtatious and sensuous behaviours, and high sexual needs and bodily explorations. There are also signs of strong emotional and temperamental mood swings. If not carefully handled, it could lead to expletive remarks and sudden fiery outburst. At extreme end, it might lead to bipolar disorders and mental displacement disorder.
Since Mabel mentioned the 7-7-5 is at M-N-O locations, it means the resulting numbers in P-Q-R is 3-3-6. Besides the [Fast-Fast-Money] associations, there are many associations we can interpret them. For example, we could interpret the 3-3-6 as [Creative-Passion-Mental], [Religious-Passion-Intellectual], and [Sexual-Creative-Worries]. I'll leave you to unravel the different meanings of the pattern on your own.
There are many combinations of traits you can form and interpret a number pattern just like a jackpot spinner. You don't have to wait for me to explain them. In fact, you can learn the technique to identify and interpret them on your own. You can interpret the 7-7-5 from different perspectives with the TA, FA, and PA profiling techniques. Yes, you can do that after attending my FEN Level 1 (Basic) and FEN Level 2 (Advanced) modules.
It doesn't imply a person with 7-7-5 at M-N-O would inhibited the above-mentioned traits. We need to check out the other numbers in the her chart before making any conclusion. For all we know, he or she might not have any extreme traits mentioned earlier.
Now back to the financial TA, FA, and PA analysis method… I felt there was a missing piece in the puzzle after correlating the financial techniques to EON and FEN methods. At times, we might find it harder to identify a person's behaviours and actions and their character strengths and tenacity. I realised I had the missing puzzle piece with me all along – I could easily and quickly identify and apply the Behavioural Analysis (BA) from the NSQ charts.
I'll share the BA profiling aspects with you at the NSQ PROFILING course. Register for the NSQ PROFILING course now. It's only a one-evening lesson and you'll get to learn the visualisation techniques of the nine-square chart from me, including the extended methods like plotting and analysing Bahavioural Impulse Chart and character strengths.
Regards, Ron WZ Sun