Overdosed on Confidence traits
Madam Tan was among the 7 people who've committed their precious time to attend last night's preview session (4/9/2015). As in my previous preview talks, the session includes 'live' case study analysis besides sharing sample slides of what the attendees can expect to learn when they registered for the FEN or NSQ courses.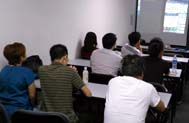 This time around, I gave more than the usual sharing on my visualisation techniques. I explained how the attendees can quickly picture the traits or behaviours associated to the numbers, like numbers 3, 2, 8, and 7. The atmosphere in class was similar in all my training and preview sessions – interactive, much laughter, and excitement. There was slight difference in my teaching and sharing (at the preview session and in FEN/NSQ classes) once I started the case study analysis.
The attendees provided 4 sample birthdates, and as usual I plotted them quickly using the FEON+ software and display them on the projector screen. I could sense excitement among the attendees' faces – knowing they could personally identify the traits and behaviours I have mentioned. I told them there was nothing mystical about the way I interpret the charts. It's all based on my research work and discoveries on the Elements of Numbers (EON) method and principles. Given time, understanding, and practises, anyone can identify the personality of the person and their traits and probable behaviours from the numbers and elements present in a person's chart. But first, they got to take action to learn the act of visualisation techniques that I'd gladly shared with everyone in class.
Madam Tan provided her daughter's birthdate for analysis and wrote, "Health. Suitable Profession." on the slip of paper we've passed around earlier. For easier identification, let's call Madam Tan's daughter as Carolina. Her chart reminded me of an earlier slide I've shown on the negative impact on a person's health if they rely too much on the LIFE CODE. The life code is just a series of numbers popularised by other trainers as a symbolic enhancer that can improve your life. Let's be practical and realistic. People with certain charts should not have life code numbers that aggravated them further as it could be damaging to their health. The manifested unhealthy energies might create health problems. It might lead to emotional and mental disorder, bipolar, Qi deficiency in liver or kidney, and limps and skin related conditions over prolonged period. I also cautioned the class to be mindful of their health (and wallets) if they naively assumed the life code is THE magical potion that can improve their life purposes. The best FREE cure to improve your health and life purpose is to change your mindset, behaviours, and actions. It doesn't cost you a cent and it can save your life.
Carolina has the 'book smart' vibes present in her chart. I told Madam Tan that although her daughter is smart and 'can' study, she should not impose too much on her daughter. Let Carolina study using her own method, her own style regardless of whether she's doing multitasking (like listening to music, texting on phone, surfing on Internet, and digesting school notes) while studying. I then told her I'd students who have schooling kids with both street-smart and book-smart vibes and one reason their kids did not display such traits – rebellious streak. I quoted the use of 'transactional analysis' to adapt the communication level between two people on an "adult-to-adult" ego-state. When a parent talks to a child on an 'adult-to-adult' ego-state, there is respect and communication flows smoothly and positively. When a 'critical parent' educates or disciplines a 'rebellious child' there is a one-way 'talk down' communication. It's like "You're OK. I'm Not OK" feelings. The child might feels the need to rebel and refuse to study. It's an act of protest over their parent's critical nagging. You can learn to identify the book-smart and street-smart vibes at the FEN Level 2 (Advanced) class.
Carolina should learn to lower her high expectations. She could reinforce the beliefs that being imperfect is perfectly normal. She need not always have to strive hard to get near perfect 100% (or over 95%) marks in her school results. She might felt the strong competitive spirits among classmates and friends. These could induce the forceful, aggressive and dominating nature in her. The successful streaks might manifest the overconfidence attitude and these might affect the way she handle setbacks and pitfalls in life. Carolina needs to learn how to suppress the overdose of confidence, be more humble and accept failures as part of life's successes. The real failure is when she stops trying and gives up hope when she falls. That is why Madam Tan should not impose her way of studying on her daughter. Since her daughter is already at JC1 level, let he explore her own ways of studying and decide what she wants to do in life.
Carolina has too many number 9s in her chart, and it's important for her to 'redirect' or dilute the overdose of competitive confidence and successful visions in her chart. She can do that by working on social activities since she's still a schooling teenager. Madam Tan then told the class her daughter aspires to be a doctor or to be in the medial profession. I then told the class it'd be beneficial to Carolina too if she works in medical and healthcare industries. Carolina must learn and practise emotional and anger management to prevent unhealthy conditions from manifesting in her later years. It's better to start early to prevent an unhealthy condition (like cancerous tendencies) from surfacing than taking medication to control the symptoms. Furthermore, she's facing the "Double Effects Year" vibes next year and it could double the positive and negative vibes.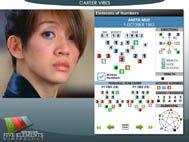 Madam Tan and others in class can learn more about personal career vibes in the FEN Level 2 (Advanced) module which focuses on life path profiling. It's important to start from the basics – to learn the visualisation techniques to understand a person's personalities, traits and characteristics. You can do that from the FEN Level 1 (Basic) module. Once you've understood the profiling fundamentals, you can then move on to the FEN Level 1 (Advanced) module. That's where you will learn to identify the tendency signs present in your life path. You can build the knowledge to handle and take preventive measures to dilute the negative energies from causing major harm to your health, wealth, career, academic, and luck.
Carolina needs to hydrate herself often instead of drinking only when she's thirsty. We also associate the female's reproductive organs to the Water element. When the chart shows weak Water element, there might be complications for 'procreation.' Fortunately, that is not a convincing observation as the periodic energies (year, month, and seasons) can 'manifest' the favourable energies around. You can learn about childbirth, conception, miscarriage and others at the FEN Level 2 (Advanced) class. I've a student asking about favourable period to go for In Vitro Fertilization (IVF). After checking the EON charts, I told him this year is favourable. I suggested the months he can consider to make the IVF appointment to optimise the favourable energies. I was happy when he told me about the positive news. I know he'll be a proud and responsible father soon.
I'm conducting the second NSQ PROFILING class on 18 September 2015 (Friday). Do register for the one-evening 3-hour session early as the classroom is small and we have limited seats.
Let me share my analysis from NSQ perspectives. The positive strengths from the Arrows of Will Power and Compassion (or Mysticism) are missing in Carolina's NSQ chart. A person with similar missing arrows in their NSQ chart might inhibit poor spiritual understanding, agnostic (doubtful or noncommittal) beliefs and lack of emotional awareness. This reinforced the observations I've mentioned earlier while analysing her EON chart – the need for her to be humble and do more social work to dilute the overdose of confidence present in the number 9.
The Arrow of Determination is partial which implies Carolina might be a good "initiator" and "finisher" of projects. This means she can start and complete a project but her passion might drift away midway through the process. Here's the good news – her determination and willpower strength has improved this year. Once we understand ourselves from the NSQ chart, we can then work to 'fill in the missing number(s)' to harmonise our life energies. I told the class for such cases, it's important to work as a team since other team members might have the 'missing number' (in their chart) that you need. There are tendency signs of relying on gut feelings and gung-ho attitudes in decision making. Though these can be handy and useful, it's important for Carolina to decide on sound judgement rather than on intuitive and mental opinions on the outlook. Carolina needs to communicate more and express her views constructively, and put aside the self-centric and egoistic thinking. Though Carolina could be a responsible and caring person, she's a forward-looking person and seldom delves on spirituality and self-reflections. She's still young and becoming an entreprising young adult soon. Madam Tan can provide formative guidance on core values to Carolina but she should not impose too much on her daughter. This is to avoid the communication ego-state between "the critical parent and rebellious child' I've mentioned earlier.
The NSQ chart can reveal many behavioural signs of a person. It can complement the Elements of Numbers (EON) method you'll learn from the FEN (Five Elements Numerology) classes.
I look forward to sharing more extended techniques at the NSQ course later this month in September and the FEN classes next month in October. Register early now to take advantage of the early bird discount.
Regards, Ron WZ Sun