Donald Trump Jr and Vanessa Trump: 8-4-3 separation effect?
According to this Yahoo article, it was reported that Vanessa Trump had "filed for divorce from her husband, Donald Trump Jr." on Thursday 15 Mar 2018. Vanessa was also cited to have said, "After 12 years of marriage, we have decided to go our separate ways."
"It's time for my FEN students to perform a case-study analysis," I thought, and quickly posted their Relationship/Compatibility Chart to the special FEN COMMUNITY WhatsApp chat group. Here're a few of their observations:
At 6-6? Super stressed. Mentally stressed. Can see from their charts a lot of emotional anger, and today [15/3/2018] is a planned day for them.
There is 843, which is marriage issue in Combined PY2018.
Too much power – Metal (1, 6, 6) take control over the relationship Wood (4, 9) because of fighting for wealth issue.
Lacking of supporting resources and output elements needed to balance their chart cycle. This might be the root cause. However, the divorce could be saved when Fire and Water elements come into balance, and move the cycle.
If you've completed the PON, UCMHP, LifeQuest, Visiber, or other PON-style courses, you might be confused or unsure with the above observations made by the FEN (Five Elements Numerology) students. That is normal as the Elements of Numbers (EON) method is more than simply learning about number patterns. Learn the EON method and understanding how the elements in a chart, interact, influence, and identify the probable signs that could affect a person.
I'm happy to receive the spontaneous comments from the active students. As I told the FEN students, there is no right or wrong analysis as it all depends on what we are focusing on and how we tap on our experiences to identify the clues. That, to me, shows the participative students are progressing towards the positive direction when applying what they have learned from me, into practices. Given time and practices, I believe their profiling skills would be just as well, if not better than me. And that's great! I hope the quiet and non-participative students could consider the challenge and share their comments in future case-study charts. Like the popular idiom, "to teach is to learn twice" which implies that the more we share (and teach) our opinions with others, the more we could learn from each other's views and explanations.
Yes, the first thing that comes to my mind is the 8-4-3 (or its variances like 3-4-8, 4-8-3, etc.) in locations N-O-H4 of their Relationship / Compatibility (R/C) chart. In addition, the 5-7-3 pattern is also present. These patterns mean there could be frequent squabbling and disagreements behind closed doors, away from the public eyes. Unless both could come to amicable terms and tolerance against each other's mistakes, such emotional and temperamental tensions could lead to everyday quarrels that could give rise to marriage problems when they don't see "eye-to-eye"over family and career priorities.
Then again, there are signs Trump Jr could have been focusing on unnecessary spending toward external parties, including female companions, resulting in frequent disagreements over family and financial obligations. There are also signs that Trump Jr might not have acquired the financial and prudent skills from his dad, and his spending habits could have contributed to some material loss. And as another student puts it, "Too much power – Metal (1, 6, 6) take control over the relationship Wood (4, 9) because of fighting for wealth issue." Conversely, it could be about business or family affairs – either way, it's related to financial, home, or materialistic tensions. We also associate the Metal element with wealth, political force, financial stability, and others.
There are also signs Vanessa might have the "selective listening disorder" traits, which could suggest frequent misunderstandings and miscommunications as she chooses to hear only "the good things" rather than listening to her husband's opinions.
From their Relationship / Compatibility (R/C) Chart, there are signs while Trump Jr is focusing on his plans and chasing his visions to be a powerful leader on his own, Vanessa is focusing more on family or materialistic pursuits. As both have their personal priorities, not wanting to take heeds to their spouse's views, these could have aggravated their frustrations and weakening their bindings. There's one more tendency sign in their R/C chart – Donald Trump could have played a role toward their marital issues. As one student has observed, these could be mainly due to the lack of resources and supports.
This year, there are strong emotional strains with multiple 4s present, together with the 8-4-3 patterns in their Compatibility Year Chart (PY2018). This could imply possibilities of a third-party involvement, or an external influencing factor could have sparked the decision to go on separate ways, because of differences in their priorities over business, family, social or materialistic pursuits.
Donald Trump Jr and Vanessa Haydon got married in 2005. There is a strong presence of multiple 3s in their PY2005 chart, which we could relate with high sexual desires. Furthermore, the spouse element is present in each other's charts. When a spouse element is present in the PY chart, it implies the likelihood of a bonding from a person of the opposite gender, appearing in his or her life that year. In some ways, that could also be construed as a sign of confirmed partner relationship, engagement, or marriage as well.
Interestingly, when I plotted their NSQ chart, it reveals more clues on their Relationship – they have strong 'arrows of planning and activity.' Both could exhibit the hard-headed, individualistic mentality towards their relationship, which means they don't have to depend on each other to live the life they want. They know what they desire, and could have made plans together, or separately, to work out on the best way to achieve their goals. The NSQ chart shows their inability to convey their feelings to each other clearly, and these often resulted in frequent misunderstandings. There are also signs of over-indulging habits.
The 'arrow of frustration' is also present, which denotes the tendency to be easily frustrated, disappointed and unsure of what each other wants. These could cause family and social relationship strains, jealousy, and each expects a great deal from the other party.
From the NSQ chart, they need to remain focused, appreciative, resilient, and tolerant. They have been married for the past 12 years, and they could continue to hold their marital status for the next 12 years by strengthening their family bonds with each other. And there is hope when they're both sincere. Work on what they want to do or be, jointly and be daring to confront the challenges together as a normal family, and not in the shadows of a president's family. They need to reinforce their drive and motivation, and set realistic goals and targets to stabilise their family and domestic duties. Most important, both must be truthful and release their innermost feelings to each other, and release the emotional tensions and fiery strains that have been building up since the day Donald Trump became the US President.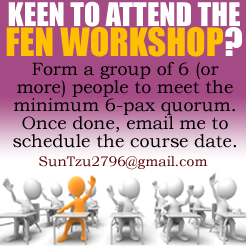 I've postponed the 3rd FEN WORKSHOP to 14-15 April 2018. The date is confirmed. Besides gaining the visualisation techniques, Qi Tapping, and other extended theories that could enhance your profiling skill sets, you will also relish the benefits of lifelong learning through the special FEN COMMUNITY WhatsApp chat group that I have set up. You can always share your opinions, participate in case studies, post questions, and learn from fellow students as well. Of course, I'll share my views and profiling observations with all in the FC group, and explain or share more "after-class" techniques.
Sign up early to enjoy the early-bird offer, and learn to acquire a valued profiling experience in class.
See you in class!
Regards, Ron WZ Sun