Refocusing on the 7-9-7 distractors
Imagine you have two friends standing beside you one on each side, and both of them are suggesting ideas on how you should approach to resolve a problem. Worst still, their suggestions are contradicting making you more confused and frustrated. The visions and high hopes you had previously now cling 'dangerously' on the choice you make.
Your friend standing on the left side is telling you the logical and practical aspect of the solution while the friend on your right side persistently tells you to be more gun-ho and be more creative in your problem solving. Well, that's like using the left and right brain principles to look at a problem, isn't it?. The gut feelings you once had suddenly turns to the amicable feelings, the heart, the empathetic moods, the wish to perfect the vision goals with a little help from your friends. The problem is – which friend do you take the advice from?
You're lucky to have friends and supporters around. And that's where the problem lies – you are feeling stressful and becoming more stubborn at times over your mood-swinging tempers and emotional frustrations. To you, friends are making your life difficult, and they are often giving you more challenges than you need. On hindsight, the problem lies with you. Friends are not making life difficult and not giving you the proper advice that you need. To you, it's everybody's fault and not yours. You're too dependant on others to guide you towards making the right decision. You're indecisive, and the choice you made and thought was right could be wrong. It's not your fault – it's just that you're in the wrong place at the wrong time making an unsuited choice. A decision that arises from 'mix-and-match' mismatched priorities.
That's where the problem is – YOU. The distractor factors – distractions and fuzzy-changing thoughts. Staying focused is what you need. Staying focused to complete one project at a time is what you have to if you want to succeed your tasks. Stay focused and not swayed by others – though they often meant well – but because you're often unfocused you felt you could not achieve your goals the way you want it to be.
From visualisation perspective, you're like the tree surrounded by water. You felt like a floating wooden platform, swaying left to right and right to left, depending on the flow of the waves and the wind. Like the sole survivor in the sea, you often feel desperately hungry, emotional, desperate, and insecure. Amid all these swaying thoughts and emotional tensions, you forgot one positive cause – your vision. The visionary foresight in your mind and not the vision you see through your eyes. Stay focused and you'll find you can float along and ride with the tide and take advantage of the positivity that comes along. When you build up the positive strength, you noticed you could change your way towards the destination you'd aimed for. Again, staying focused could help squash the fear and push the distractions aside.
Staying focused is one thing. You also need to untie the stubborn knot in your mind and not act rashly and hastily. The common phrase "more haste less speed" is a good reminder. When you act rashly, you could become more easily frustrated, stressed, and temperamental. And you become crazy busy moving around responsibly. While your friends are enjoying the life they desire, you're still struggling to live beyond the life you're in now. Wake up your mind and focus on your priorities. Don't be sway be emotions and friendships. They do help but eventually, it's you who have to decide what you want to do with your own life. And what you want to achieve to live the life you desire. Think, plan, and make it happen. And you'll find you're surrounded by ample luck and opportunity energies from within yourself and from your friends. By becoming more focus and positively, you're creating enough opportunity to attract the luck energies towards you. That can help you stay focused and make your goals more achievable. After all, we can easily associate the 7-9-7 to [Luck-Success-Luck] traits.
The 7-9-7 could also imply spirituality and humanity pursuits. After all, this is mainly because we can associate number 7 to wisdom, philosophy and spirituality, and number 9 to humanity as well. At times, religious or spirituality in sights seems less profound. You also have great passion to pick up more knowledge beyond conventional academic studies.
The traits, thoughts, behaviours, and actions could happen to anyone with the 7-9-7 patterns whether it's present in their birth chart or Personal Year chart. My observations are just on the 7-9-7 patterns putting all other numbers aside. You need to identify the surrounding numbers on a person's chart to do a more detailed analysis. This is because the elemental energies could eventually influence the person's perceived mindsets, habits and actions.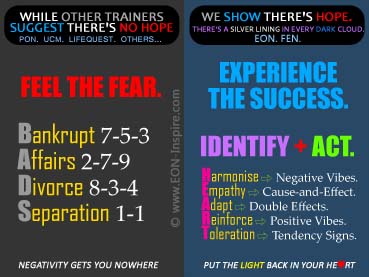 Many of my FEN (Five Elements Numerology) students who attended the FEN Basic and Advanced Level courses could identify or correlate similar traits that I've mentioned above. The reason – I'd shared the visualisation technique, hidden number patterns, and the elemental traits associated to the numbers in class. Through regular practices I believe they should fully understand and identified the traits and underlying reasons. And I must admit, having a software tool to plot all possible information does help speed up the analysis, and opens my mind to wider profiling window.
I'm glad the FEON+ software is helping me achieve what I need for my advanced analysis, and I believe it can help you too when it's released. Here's the good news – I've completed development work on FEON+. It's now in useability test stage…

Come and support me when we have confirmed the next FEN class. We're taking a break for now which comes handy as I could focused on FEON+ development. Anyway, give Daniel a call at 9853-1777 to register your intent to attend the FEN Basic or Advance Level course.
Regards, Ron WZ Sun