Terminating Career vibes
According to this AsiaOne online news article, it was quoted that "former foreign minister George Yeo was mentally prepared to lose the contest for the Aljunied GRC in the 2011 General Election."
When I first read the article, it reminded me of the many EON Workshop sessions I have conducted after the 2011 General Election. That's when I shared my observations on the career termination vibes that might affect him.
Here is a scaled-down version of the case-study slide I've been using to explain the probable career causes to the FEN Level 2 (Advanced) students, the most recent class was done early this month (9/5 and 16/5). His photo was taken from the Internet and the rightful photo ownership is acknowledged.
I taught the FEN (Five Elements Numerology) students the technique to identify the career element and its influencing vibes that might happen to a person in a particular year. It's different from the basic approach of finding out the 'suitable career or business' element described in my book "Elements of Numbers: Fast and Easy Character Profiling." It's an extended EON technique that I've developed over the years where you can gauge the strengths of a person's career vibes in a particular year.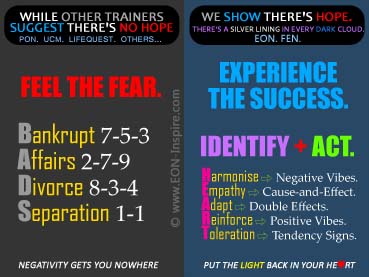 While using George Yeo's case as classroom case-study example, I highlighted the tendency signs that might affect his political career. I also told the students that even if he was not contesting in the Aljunied GRC, the tendency signs of him 'changing' his career were strong. As there are different form of career vibes affecting a person, some people would experience different effects, like termination, resignation, changing jobs, and redeployment.
George Yeo has disclosed his mental readiness in a book scheduled to release soon. It's another case study observation that reaffirm I'm working on the right profiling track. It enables me to apply the observation analysis into the EON technique. This helps strengthen the human behavioural and life path profiling application methods. In many ways, it raised the EON principles to a different level and allows FEN students to profile a person's chart from a different perspective. Besides knowing the steps to identify the career element, FEN students also learned how to identify other life aspects as well. These include smart vibes (book-smarts and street-smarts), spouse elements, wealth element (not necessarily associated to number 6), health signs, life signs, annual code, and many others.
On a side note, it's important for George Yeo to cut down his sugary intake, if he hasn't already done so.  There are tendency signs suggesting he might be in the 'high-risk group' of people with diabetic tendencies. Make some dietary adjustment, exercises, and lifestyle changes should help reduce the diabetic tendencies.
Some students told me after attending my class the Elements of Numbers (EON) method is like an enhanced profiling system. It's like a superset of the Power of Numbers (PON), Universal Character Method (UCM) Profiling, Life Quest, Science of Numbers, and other methods taught by other trainers. Most of these external methods focused mainly on the numerical vibes and the patterns present in a person's chart. EON focused mainly on applying the Five Elements principles to the analysis.
EON/FEN students gained greater awareness of a person's characters; easier identification of the influencing signs affecting a person's life aspects; and better understanding of a person's behaviour and actions at different periods of time.
Regards, Ron WZ Sun