Emma Watson's strong Metal presence
The other day, I was browsing a Feng Shui magazine at a local bookstore outlet and briefly read the case study on Emma Watson. The writer focused on Emma's strong feminine traits, and has identified Emma's strongest element as Metal. The writer then continues to explain the interactions of strong Metal in Emma's Bazi chart.
It was an interesting read even though the analysis was basic. As Emma's birth time is known, I decided to plot her Bazi chart using my BaziCalc+ software. I've displayed the 5th pillar (one of the many unique features in the BaziCalc+ software) to allow Bazi users to identify more subconscious traits of Emma.
Today's article is not to debate which profiling method is better. A person's knowledge and profiling experience can influence their preferred method. The intent is to showcase the easier way to profile a person from the Elements of Numbers (EON) method. I'll explain how we can identify different sets of clues associated to Emma's traits and character strengths.
Let's look at Emma's EON chart. Sure, the obvious Metal element is strong, with the number 1 displaying the exquisite leadership qualities. There are similarities and differences in a person's traits when we compare and analyse their Bazi and EON charts. In Emma's Bazi chart, her Day element is Yang Metal. From Bazi principles, we associated that to 'big knife' like an axe or sword. The person can be arrogant and forceful. However, in her EON chart, the number 1 is like a 'small knife' (like Yin Metal) which we can associate to a strong feminine person with posh and presence. Like a penknife or paper cutting your fingers, she can display the hurtful and worrying nature on herself and toward others once agitated. And like the silver jewelleries shinning with inner beauty, she could create the lasting appeal and unforgettable impressions on others. Besides, her EON Birth root number is 2, which implied the capacity for her to communicate and express herself well to others.
I'd recommend you to check out her Reflection Chart if you have access to the FEON+ software. The amazing thing is the numbers in locations' M-R in her Reflection Chart is identical with the numbers in same locations on her Birth Chart. This implies double re-enforcement of her outwardly (conscious) and inwardly (subconscious) attitudes, beliefs, and actions. She has strong determination to drive her message across to others. She could exert the compelling influence to get others agreeing to her ideas. There are signs of creativity, passions, and sexual appeal traits in her. With proper family upbringing and core values, she is in good position to display these natural traits to her advantage. However, the 'penknife cutting the finger' action can also hurt others greatly once she cannot distinguish the transgression line.
From her EON chart, Emma is capable of growing her wealth and assets. There are occasional stumbling blocks because of distractions from 'crazy busy' projects that might stress her even more. This could lead to carelessness resulting in financial wealth or the likelihood that she could not achieve the needed wealth targets. Patience is a virtue. As long as she can selectively take projects in line with her life purpose, there's no stopping Emma from achieving more fame, charismatic influences, sex appeal, and attractive presence in the years to come.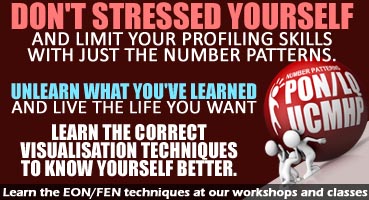 The perfectionist traits are present in this year's PY2015 chart, and these might influence selecting her artistic projects. Being a celebrity and living the high social lifestyle has implications, like a double-edge sword. That's when she started to indulge in binge drinking, heavy smoking (and taking drugs), and other unhealthy habits found in many celebrities. Health-wise, she might unknowingly hasten the diabetic and cancerous tendencies, especially in her later years.
While it might take a longer time for many people to analyse a person's Bazi chart, most people could easily identify key traits of the person from the EON charts. It is simpler and faster to learn the EON method without worrying about 'multiple combinations and clashes of the stems and branches' and the inclusions of 'Symbolic Stars' present in a person's Bazi chart.
The Elements of Numbers (EON) does not replace the Bazi method used by many professionals for centuries. The EON method is a modern-day complementary profiling way to get you to find out more clues and tendency signs quickly. You can buy my book "Elements of Numbers: Fast and Easy Character Profiling" at major local bookstores like Kinokuniya, Times, and selected Popular outlets. Furthermore, I intentionally designed the FEON+ software and expand the EON method to follow the Bazi's periodic pillars as I noticed we can apply a similar approach to plot and analyse a person's life path.
The application techniques of the Five Elements principles in both Bazi and EON are similar, and yet there are slight differences when we interpret certain life aspects. Current Bazi users (professionals and enthusiasts) can acquire the EON method easily and fast too. Regardless, you can easily expand your profiling knowledge by combining both methods.
Regards, Ron WZ Sun