On Relationship & Compatibility
If you're one of the users who'd searched for 'compatibility' for 2-7-9, 7-2-9, and/or 1-5-6 early this week, one way to check on the relationship of you and your partner, or on a couple, is to read past articles regarding the specific traits associated with the 2-7-9, 7-2-9, and 1-5-6 patterns.
The checking of past articles for probable characteristic and trait signs is useful when we analyse the patterns on an person's chart, but when such pattern is present in a combined relationship chart, we need to analyse them differently. Consider the case of the 2-7-9 or 7-2-9 patterns appearing on the "Relationship / Compatibility" (R/C) Chart based on the Elements of Numbers (EON) principles. Sure, you could interpret the signs of two different people coming together, and both exhibiting the chatty, communicative, sensuous, flirtatious, charismatic, and influencing traits. These are just fundamental interpretations that you might learn elsewhere, even from their advanced modules; or by reading my book "Elements of Numbers: Fast and Easy Character Profiling." However, when it comes to extended EON techniques, we need to "look" further and beyond the basic characteristics associated with such patterns.
I've shared various ways to analyse the R/C Chart to FEN WORKSHOP students, which, of course, include the basic way mentioned earlier. What's more important is to "open your eyes" wider and analyse from alternative perspectives, using the visualisation profiling techniques. For example, a couple with 2-7-9 and/or 7-2-9 patterns on their R/C Chart might not be just chatty, flirtatious, and thinking of sexual activities together most of the time. Depending on the locations of the patterns, each of them could have separate external partners too, meaning having multiple 3rd-party relationships with somebody else.
In the FEN WORKSHOP class, you'll start to recognise having such patterns in the R/C Chart could imply a relationship with double-edge implications. There might be an individualistic mentality where each of them would strive for personal gains, to the extent of manipulations on feelings, persuasive stroking of the other party's ego, cunning or shrewd actions, and being partners for sensuous and sexual causes. In some instances, such patterns, be they on the 2-7-9, 7-2-9, or 1-5-6, could imply a relationship that further strengthens the partnership of two persons, manifesting favourable vibes on their career, business, academic studies, wealth growth, and skill sets. You'll know more, including the "root cause-and-effects" at the FEN WORKSHOP class.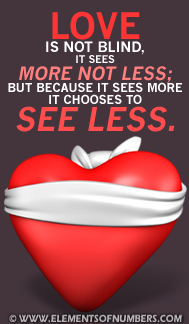 In short, we don't just look at the R/C Chart and assumed we're analysing based on compatibility of two persons wanting to become a married couple, or social/business partnership. Rather, we are analysing on the cumulative manifestations of the energies contributed by the team – where two or more people are coming together to work or act for common goals.
A R/C Chart with a 1-5-6 pattern could imply a business or investment-like partnership. It could also imply two (or more) people coming together, and often facing challenges and stumbling blocks on financial or home matters. And it could also imply these people are coming jointly to raise their budgetary growth,  spending more on home finishing, spending lavishly on branded items, or regularly organising home parties. Furthermore, we cannot just analyse the R/C Chart on an "as is" basis, which means simply ignoring other influencing vibes from the personal charts. We have to examine their own Birth Chart and Personal Year charts as well, as individually, there are always transitioning energies that could influence or affect a person's mood, health, aptitude, attitude, and physical energies every day. And in turn, these could influence the other party's behaviours and activities too. That stated, this periodic vibes could be contributing to the love, friendship, argument, disputes, quarrels, and emotional tensions a couple might face sometimes.
I've included the Compatibility Year Chart in the FEON+ software to allow users to determine the yearly energies that might affect or influence the relationship. This entails the need to check on the compatibility of two (or more) persons are just one of the many layers of profiling. We need to be mindful that a compatible chart is no guarantee for "everlasting" harmonious relationship; and an incompatible chart is not a confirmed endorsement of "never lasting" unappreciated love. We have seen many incompatible couples living a loving, compatible lifestyle together; and a perfect-match and compatible couple living separately or got divorced many years afterwards.
Thus, as mentioned earlier, what's more important and significant, is to understand why the periodic vibes could affect us, and how to identify the beneficial vibes to manifest, and find out the exhausting vibes that we need to take extra care. Of course, you'll learn the many more techniques in the FEN WORKSHOP class, including the Periodic Codes (Birth, Annual, Relationship, and Daily) to find out how the vibes could affect your life aspects, like career, health, wealth, beliefs, and attitudes.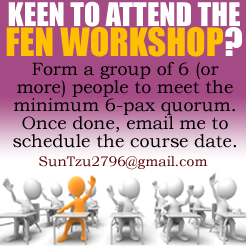 The 3rd FEN WORKSHOP is tentatively scheduled for 24-25 March 2018 (Sat and Sun). You can email or WhatsApp me to pre-register today to enjoy the early-bird offer. Once I've the student quorum (minimum six new students), the class schedule will be confirmed, and the normal course fee would resume. Course fees are intentionally set lower as I've bypassed using commercial event management services to help promote the course. Certainly, they could do a better job than me, but this means the need to raise the course fees. That, is not the approach I'd take as I want you to enjoy a positive profiling learning experience, without  short-changing the sharing of EON/FEN techniques.
If you've attended PON, UCMHP, LifeQuest, Visiber, and other PON-style courses earlier, and still pursuing the profiling interest, it's time to give yourself the opportunity to learn the EON/FEN methods directly from me. Furthermore, all students get to enjoy communicating with one another, including me, through the FEN COMMUNITY WhatsApp chat group. This means you get to enjoy after-class continuing lessons.
Check this link for information regarding the FEN WORKSHOP course details and pre-registrations.
Register early…
Regards, Ron WZ Sun