On the 1st NSQ PROFILING class
The 1st NSQ PROFILING workshop was conducted yesterday, on 22 September 2018 (Saturday). It was initially targeted exclusively for FEN students who have attended the FEN (Five Elements Numerology) Workshop courses since this is my first NSQ session with them. I'm glad to have an enthusiastic FEN student Su, and her friend who both came to Singapore (from Thailand) just to attend the NSQ class together.
"My friend and I had a great time learning about NSQ!  We now know our immediate focus so we can accelerate forward. Thank u very much Ron!" – Su
The 1-day NSQ PROFILING class covers both the charting method of a common Western-style nine-square chart system, plus my own extended methods. This included the ability to recognise the characteristic and behavioural inclination or impulses of a person at any time. While there are books on the basic nine-square charts, they are focusing on the rudimentary aspects of a person's character. The NSQ PROFILING method has more techniques and applicable usage. For example, NSQ students can now know whether a person has the likelihood to procrastinate, sceptical, lacking willpower or determination, an initiator but not team worker, impractical, emotional balance, and others. All these, in a simple visual approach that I have shared in class.
Anyone, with or without prior knowledge of UCMHP, PON, or even my Elements of Numbers (EON) method, could easily identify a person's character – straight to the point, without worrying about other leading factors. Furthermore, with the extended techniques I have formulated, NSQ students can speedily plot the NSQ chart anytime, and distinguish the attributes to a person's 18 arrows of strengths and weaknesses; plus the ability to factor in the periodic information as well. In short, NSQ students can plot a person's birth chart, year chart, month chart, and day chart quickly, any time, and at any place, as long as they have easy access to pen/pencil and paper. Of course, if these writing stationeries are not available, they can also mentally plot the chart too.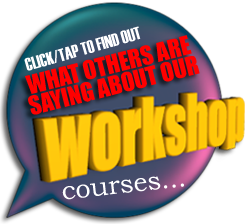 Besides passing on the knowhow on the fundamentals of the nine-square charting and profiling method, and the extended techniques, I also showed the class a visual way to identify a person's behavioural inclinations. This implies, at a glance, you can determine various aspects of the person – from birth, to anytime of the year, day, and month – like checking this confidence level, emotional state, responsible attitudes, and much more. All these plotted and displayed using the Microsoft Excel chart which is  available on mobile smartphones. And since NSQ students are handed an exclusive copy of the NSQ worksheet, they can plot the NSQ Behavioural Impulse and Intellectual charts on their smartphone or desktop systems (Windows and Macs) any time.
"A simple and powerful technique that can be easily applied to character and behaviour profiling. There is much joy in learning from Ron." – CM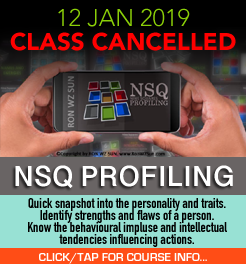 Like in all my earlier FEN classes, the atmosphere in the NSQ class is positive, lively, fun, interactive, and enjoyable. It is common to see many smiling and excited faces in my class, with some students asking different questions at an almost similar time, attempting to get their birth dates or someone's birth dates for case study analysis. And since most of the students attended my FEN classes before, they could utilise the EON techniques and apply them to the NSQ analysis as well, and vice versa. This means, with the added layer of a different profiling method, they could complement their EON/FEN profiling with NSQ theories and techniques as well.
I'm looking forward to imparting the NSQ techniques to the next batch of students keen to attend the 2nd NSQ PROFILING class. Students who previously attended PON, UCMHP, LifeQuest, or Visiber courses, will benefit most by complementing their profiling knowledge and skill sets with the NSQ method. E-mail me (SunTzu2796@gmail.com) to pre-register your interest to learn the NSQ PROFILING method. Click this link for more information on the NSQ PROFILING course…
Until then, happy profiling.
Regards, Ron WZ Sun