On Elsie: Need for Work-Life Balance
Peter recently texted me about a female acquaintance he has met lately. And like many EON/FEN students whose curiosity and inquisitive responses are high, Peter managed to obtain Elsie's birth date and started to analyse her chart.
Let's take a look at Elsie's EON chart. At first glance, Elsie's chart reminded me of past articles that I wrote where the person has 9-9-9-9-9-9 patterns in the M-N-O-P-Q-R locations. While Elsie might be driven by perfection and the desire to achieve the success she desperately envisioned, she has to control her emotional and mental states, and moderate her behaviours and actions. Otherwise, she might succumb to temptations and greed, and wandered towards the competitive, forceful, and arrogant side.
In many ways, and as described in my past articles, she might become a victim of her own successes, and because of that, would expect nothing less from others. While she could have inhibited, or even exhibit signs of charismatic, appealing, sensuous, and presentable communicator, it'd be beneficial for her not to manipulate others unethically to get what she wants, or exerting immoral behaviours to achieve the targets successfully.
In the Five Elements principles, strong Wood elements could affect the Metal element. This implies, the potential scenarios of Elsie being affected by health symptoms related to the Wood and/or Metal element. This includes lung infection, headaches or migraines, mental capacity or cognitive thinking, sleep apnea, pneumonia or breathlessness, depression, breast, liver, kidney, and even chest tightness symptoms. Behavioural-wise, these could include hard-headed mindset, high aspirations and unrealistic visions, setting impractical targets, self-imposed resilience, success-driven greed, feelings-tinkering manipulations, and relentless pursuits causing stress, tensions, and exhaustion.
As there are both the Yin and Yang effects, it'd be beneficial for Elsie to redirect her excess Wood energies towards other paying-it-forward areas earlier, like doing philanthropy works, involved in charity or community services, and participating in regular donations. Otherwise, over-exertions and unhealthy activities could worsen her health. And because of the health-related signs present in her chart, Elsie belongs to the "high-risk" group of people with cancer, breast, and possibly, including diabetic tendencies. It is important for Elsie to go for regular medical checkups and mammogram screenings as well. As the health symptom also includes the EARTH element, it implies Elsie might face occasional health symptom like stomach pains, digestion issues, and muscle stiffness and tensions.
When I applied the NSQ PROFILING method on Elsie's birth dates, I could gather additional clues.
For example, Elsie's NSQ chart show signs that she is an activity-based person who could get things done, possibly through her own unique ways, relentlessly until the project is completed. Still, there is a problem somehow – the FRUSTRATION Arrow is present. This means, while Elsie is seen as an ACTIVITY-based person who gets things done, she frequently faced stumbling blocks to her WILLPOWER capacities. Eventually, because of these obstacles preventing her from achieving a smoother path towards her goal, she could feel frustrated and with emotional mood swings, at times.
The NSQ PROFILING method is unique, and is a standalone method of numerology profiling. And when you know other numerology methods like UCMHP, PON, LifeQuest, and even my EON/FEN methods, it can complement your profiling analysis. For instance, when I combine my analysis using both the NSQ and EON/FEN methods, the potential stumbling blocks to her frequent frustrations could be due to the lack of quality-focused completion. This means, while Elsie could be a good initiator and communicator, she frequently might face passive reactions to carry out her plans. One possibility could be due to her perfectionist traits, also present in her EON birth chart, and the success-driven attitudes – these relentless pursuits could have agitated, angered, and baffled others.
Another possible area is because of her goal-setting targets, she could frequently change tactics and plans – focusing on results and quantities, rather than fundamentals and qualities. Eventually, it could lead to some form of regular back-stabbing activities, affecting the quality to her work done. Perhaps, there is the need for Elsie to balance her work-life priorities, to slow down her subconscious "been-there, done-that, and quick-success" mindset, and be more tolerant, adaptable, work in cohesion as team players, and trust others. These characteristics are also present in her Reflection Chart, and her NSQ chart as well.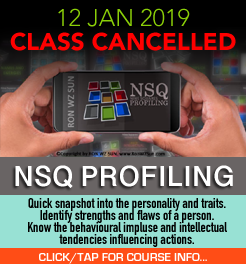 The 2nd NSQ class is scheduled for 12 January 2019. Registration for early-bird discount is now available. Besides knowing the NSQ fundamentals and its applications (in profiling and analysis), you'll receive a special Excel file that enables you to plot the NSQ charts on PCs (like on  Windows and Macs systems) and mobile devices (like the iPhone and Android smart phones) that support the Microsoft Excel worksheet file.
As the early-bird discount offer is available for a limited period, register now to reserve your seats. And in my earlier classes, I've intentionally booked a smaller classroom and up to 10 new sign-ups for each class. This way, you can relish the learning experience, active participation, post questions and birth dates for analysis, and I can share my NSQ profiling observations in class.
Regards, Ron WZ Sun