NIPL Oracle: Forecast on Donald Trump by Master Phat (Thailand)
I was excited when one of my Thailand students texted me early Saturday morning, with her Oracle reading on Donald Trump. Master Phat (also known as AjarnPU or AjarnPhat) provides profiling and Oracle consultation services to her customers, and also conduct courses to her students in Thailand.
Today's article is on her Oracle readings that she posted in her Facebook page for her Thai students and followers – translated from Thai to English language through Google Translate. I modified the text for ease of reading and included my comments as well.
There are so many card spreads that you can use. Just go to social sites like Pinterest and others, and you'll find thousands of Tarot/Oracle card spreads for different purposes. While Master Phat used the common 3-card (Past, Present, Future), she included an extra card during her Oracle reading.
"Analysing the hot situation" by ArjunPU
Hello everyone, I have selected the NIPL cards, an advanced set of Oracle cards to predict the actions of Donald Trump. Let me share my reading and explanation of the Oracle prediction made about American President Trump.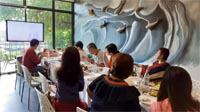 Outstanding Elemental Power
The ELEMENT CARD shows the Water element, which means positive and negative energies that influence him due to its physical and mental weakness – needs much support. As a result, he must use words to communicate and persuade people – his followers – and encouraged them to do what he had suggested.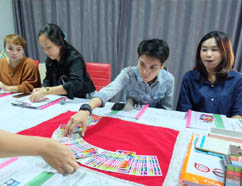 The Balanced Of Power set is 7-4.
Weakness is 7. It refers to areas of support for lovers, popular people, lack of faith and distrust.
Strength is 4. It refers to the thinking aspect. He wants to be successful as expected. When strong, it is very powerful (thinking badly). He should think and plan carefully.
In summary, he wanted continual and thoughtful support of his followers. He wants them to be united and fight for a common belief, so that he can continue to lead on their behalf.
Read a set of cards: Past (2-5), Present (3-8), Future (1-4)
PRESENT 3-8. It represents small Fire (3) and large Fire (8) elements.
This set of numbers is extremely powerful today. Due to the strength of the Fire element, it influenced Donald to work so hard. In his mind, there is nothing but anger, anger and anger. The current disorder in the United States was caused by self-inflicted, principled willpower.
The signs of violence, at the moment.
FUTURE 1-4 (5). It represents Metal (1) and Wood (4) elements.
Is a medium or average number set. The capacity to think (mental thoughts) and to plan are strong, but it lacks trust and confidence.
Obstacles and uncertainties exist, and the change is waiting (apparent). The obstacles and challenges that emerge, are mostly of its own making (created internally). Be careful!
It's a very good number set. He's expressed himself well in the past. He has great love and support. His followers believed everything he said. He has influence; he knows how to use words to win others over. Hard to change behaviour and communication style.
Summary…
Will he succeed in seizing power or not?
Pick up a new card. It shows 8-4.
Decided it is not successful; there is an obstacle to his plans. There is a great loss that is significant, be careful with the trial and lawsuits that followed.
Analysed by AjarnPhat, 16 January 2021
Master Phat's analysis demonstrates that there are many ways to perform an Oracle reading. The NIPL Oracle Deck is just a tool; it's entirely up to you to decide which card spread you want to use, to address the specific question and how you want to identify the clues.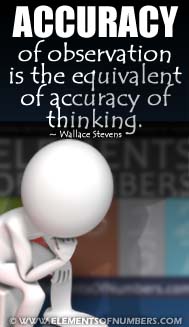 The availability of the YIN Card and YANG Card in NIPL Oracle, provided important information to facilitate Oracle forecasting. It can be used to identify potential negative behavioural biases (YIN Card) that could arise, if the person thinks and acts negatively. It may also be used to identify potential positive behavioural inclinations (YANG Card) that might occur, when the person thinks and acts positively.
Master Phat's approach of using the YIN and YANG Cards as "Yin/Yang balance of power" is yet, another way to apply, to identify the two influencing forces that might affect a person, to determine its harmonising effects. Either ways, the eventual outcomes, depend on the person's behaviours and actions, whether to aggravate the situation (negatively) or to take positive steps to minimise and manage the situation (positively). What's done cannot be undone, but should the person (Donald Trump, in this case) behaved and acts positively, he can at least, stop further harm and damage to his country and citizens.
I'm glad that Master Phat applied what she learned in the FEN (Five Elements Numerology) class, and adopted the growth mentality to profile a chart, or perform an Oracle reading. The Oracle reading steps are situation-based, depending on the technique that is relevant to the question being asked, and what/how we expect to receive or identify the result. In this Oracle forecast, Master Phat used elemental interactions to express her analytic thoughts, to draw potential results. Perhaps, for another Oracle forecast, she could use another approach, like analysing the interactions of the two numbers and its resulting number, to formulate a visual in her mind and then interpreting them.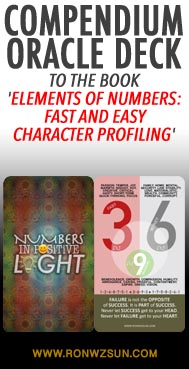 The NIPL Oracle Deck is helpful for anyone who wants to explore the possibility of predictions, at an affordable price. I'd recommend the NIPL Oracle set to students who attended external courses (like Power of Numbers (PON), Universal Characteristics Method of Human Profiling (UCMHP) and Clarity Numbers, Science of Numbers and LifeQuest, and Visiber) to get and try it out.
Master Phat created her own "Elements and Numbers" Oracle Deck, primarily for Thai customers.  If you understand the Thai language, do check this YouTube video (click here) to watch. You can contact her for profiling consultation and/or attend her classes. On my EON Oracle page (click here) I have included photos of her EN cards, and students who attended one of her previous Oracle courses.
The NIPL Oracle is designed for worldwide customers, with all text information in English. While it can be similar to many Oracle/Tarot cards available, the differences – like using it for multi-uses, and use of Five Elements, described on the NIPL page – sets it apart.
Click this link to buy the NIPL Oracle Deck now, and start exploring another interesting area of predictive profiling.
Regards, Ron WZ Sun